Ahmad Sobhy Mustafa
---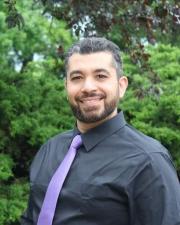 Graduate Teaching Assistant
Biography
—
Ahmad Sobhy Mustafa is a Ph.D. student in the Political Science Department. He is a Graduate Teaching Assistant at Religious Studies Department. He is also an Arabic instructor in the AAAS department.
Education
—
B.A. in Languages and Translation, Al-Azhar University, 2009
Islamic Law Diploma, The Higher Institute for Islamic Studies, 2014
Specialized Diploma in Islamic Studies, Cairo University, 2015
M.A. Preparation, Al-Azhar University, Islamic Studies Department, 2017
M.A. in Religious Studies, University of Kansas, 2021, Lawrence, KS
Fulbright Scholarship
Research
—
His area of interest includes but is not limited to comparative politics, international relations, Islamic studies, Islamic Law, jurisprudence, religiopolitical discourse in the Middle East, colonialism, post-colonialism, and radical groups' discourses.
Selected Publications
—
Al-Azhar's Renewal of Religious Discourse and Power after the 2011 Egyptian Revolution